I think that we best develop our artistic skills through practice and implementation - no amount of reading has beaten the results I've achieved from constant trial and error, training my eye, and exploratory experimentation. 'Detective Somerset' is by far my "better" work, but all the scenes leading up to this one have helped train me as a better and more confident Lighting Artist, I have absolutely zero doubt in that.
At this stage, I think I've got a pretty good understanding of how I approach my work, so I thought I'd write up a little (long) breakdown of how I approached lighting 'Detective Somerset'. For this breakdown I'll be referencing UE4 and DaVinci Resolve, but the techniques that I'll talk about will be applicable in a variety of software, possibly even one that you use often if not daily.
1 - Gathering Reference
I like to be meticulous when I'm searching for my reference, so this step can take me a fair chunk of time to really nail. For me, reference is often my greatest guide on a project. I continually check my work against these sources as often as possible - be it my 1st, 2nd, or 10th pass. Clearly understanding the look, mood, and atmosphere that I'm trying to achieve is really important and it not only aligns me artistically but it helps form a clear direction for me to be taking within my work. Having direction helps me to be more creative within the context of the scene and allows my own self expression to speak through my work without negatively impacting the overall look that I'm going for.
Funnily enough, another source that I find awfully relevant to creating any art (within context) is the article: 'Here's Why Your Cakes Taste Like Sh*t'. While I understand that creating impactful art is often dependent on self expression, I think it's important to remember that creative limitation can be a really powerful thing and adhering to "guidelines" at least helps me produce "better" art.
For 'Detective Somerset', I knew the look that I going for and I had a pretty good idea of the reference that would help me in producing that look. I was inspired by the cinematic lighting in Blade Runner (1982) & Se7en (1995), two films that I adore for their artistic appeal and storytelling techniques, not to mention that I'm a complete film-noir nut! I also looked at Zodiac (2006), Skyfall (2012), The Shape of Water (2017), Deus Ex: Human Revolution (2011) & Deus Ex: Mankind Divided (2016) for further reference.
Below: These are the shots that I collected as reference art for my lighting.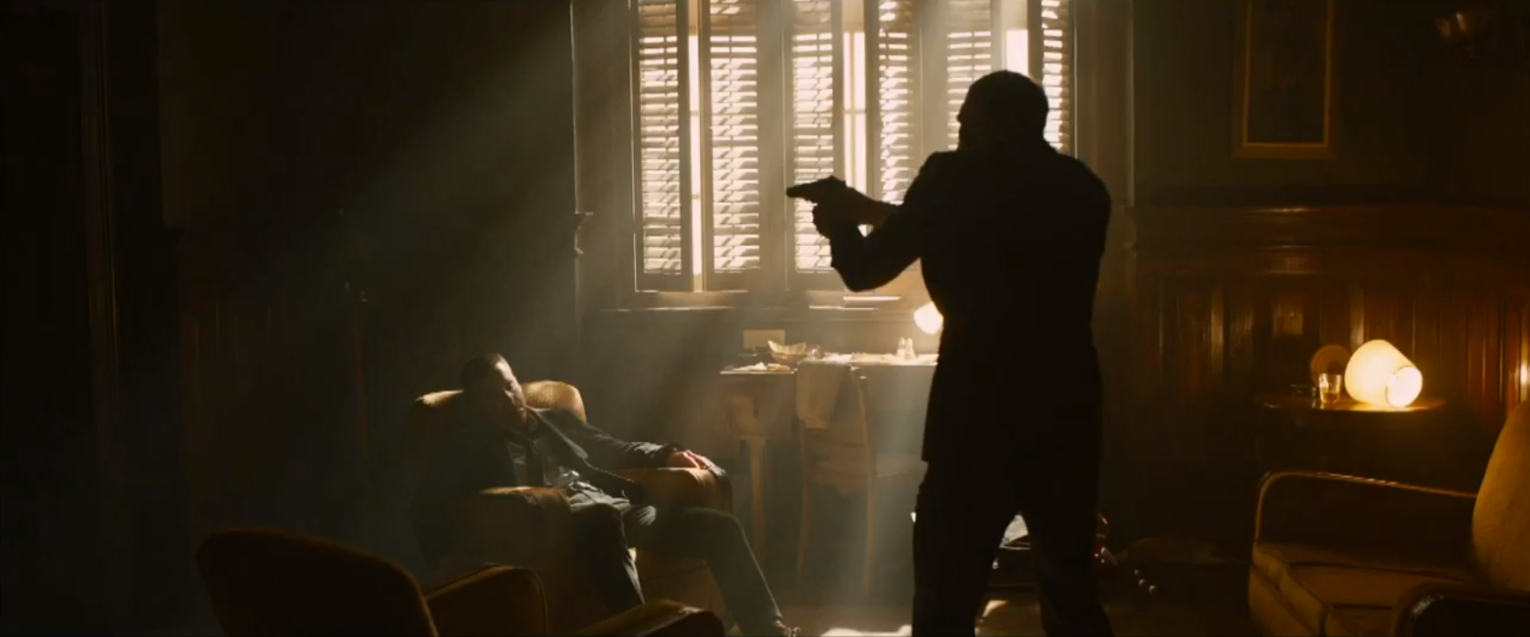 2 - Initial Assessment (UE4)
I typically start off by assessing the base geometry and layout that I'll be working with, often tweaking things according to my personal taste and to what I think will best suit my vision. 'Detective Somerset' was a little different, I mainly spent time working with the established camera placements in the scene and getting them to highlight the areas that I needed them to. These cameras were set to capture shots of key "glory" areas that I identified in the scene, these areas are the ones that I would later accentuate with my lighting.
After tweaking my cameras, I moved onto working with my establishing shot. This shot is used to set the scene for the audience, it's not only their first glimpse into the world setting but it's intended to set the tone for the complete project, the audience should have a clear understanding of what could be happening within this environment / or the possibilities within it based off of this establishing shot.
I now had five shots that I was happy to start working with. I later introduced an additional two cameras that were used to highlight quieter areas of the scene that were not getting enough attention through the other cameras. My next task was to look for all possibilities that I had for lighting. I was particularly excited by the awesome light fixtures that I had to work with in this scene, my personal favourite being the neon sign that is sitting just outside of the main window. I ended up capitalizing on this source and achieved those longer streaking shafts through the slits in the window shutter, à la Blade Runner.
3 - First Pass - Lighting (UE4)
4 - Initial Colour Grade (DaVinci Resolve)
After my initial lighting pass (above), I created a quick Sequence in UE4 and captured a shot from each of the cameras in my scene, then exported this sequence into DaVinci and got started on my initial grade. I focused mainly on the color ranges in my scene and worked on making my warm / cool tones really pop and stand out whilst maintaining a level of cooperation between these two opposite colors, I needed these colors to work together in creating a visually pleasing image for the viewer.
Below: My primary node which holds my first pass color correction values (node is highlighted in green).
Below: My first pass color correction values adjusted manually by eye and then tweaked accordingly to match the atmosphere / mood that I was going for in my scene.
The first dial (left to right) represents my images Lift value. Lift allows me to adjust my images black level (any dark tones or shadows in my scene), it locks the RGB component together and effectively gangs them together only working in the black areas of the image. I didn't do anything drastic here during my first pass, tweaking my Red value down to a -0.03 was giving me an initially pleasing result so I left it at that.
The second dial represents my images Gamma value. Gamma is where I can play with my images mid tones. The mid tones will become brighter or darker, whereas the whites and blacks stay the same when adjusting this value. I had two routes to take with my mid tones, either to accentuate my warmer ranges (Y = -0.04, R = -0.03, G = -0.05, B = -0.04) but what I found was that this route washed out the details on the desk (the focal point of my scene) and it brought some strange colors into my shadows, basically none of this was what I was going for. Route two was to bring a cooler value into my mid tones (Y = -0.04, R = -0.06, G = -0.03, B = -0.04) the results being that the warmer areas of my scene cooled down quiet a bit and evened out the hue, I found that this allowed for more visual clarity to come through my image and into my mid ranges which was working well for me.
The third dial represents my images Gain value. Gain will only adjust the white level (highlights), actively ganging the RGB components together and effecting the highlight areas of the image. In layman's terms, brighter colors can become darker or brighter and the brighter the color the stronger the difference, blacks will always stay the same. I purposefully pushed these values towards the cooler end of the spectrum for my image, making my blues brighter without impacting on my warmer tones to much. This worked out particularly well for accenting the blue light coming through the window in my scene - the source is a neon motel sign so the brighter approach seemed fitting for this (Y = 1.35, R = 1.47, G = 1.29, B = 1.64).
I played a lot with the Saturation values in my initial grade, this was one of the biggest components that I adjusted. I really wanted to nail the intensity of the colors featured in the scene (the blue vs. orange / cool vs. warm look I was going for). Saturation describes the intensity (purity) of the hue, where hue refers to the color of the image itself, defined technically as "the degree to which a stimulus can be described as similar to or different from stimuli that are described as red, green, blue, and yellow".
This essentially wraps up the work I did with the color wheels in DaVinci. I continued on by playing with the Curves in my grade to further touch up my work and color adjustments.
Below: This is the RGB Curve for my grade. I started off by tweaking the R, G, B Curves independently and got each range to a point where I was happy with the results I was seeing. I then took the Y Curve and lifted this in an effort to increase the brightness level in all of my colors without washing things out to much.
Below: I then jumped over to the Hue Vs Hue Curve, mainly looking to ensure that my colours were true to my vision for the scene. I really wanted my blues to be "cool and hazy" in comparison to my oranges that I wanted to be "warm and stuffy".
Below: Next, I looked at the Lum Vs Sat Curve and made some adjustments. Starting from the left of the curve, I knew I wanted to achieve more breakup in my cooler ranges and I wanted to blend the atmosphere from the window into the background a little further. I tried to make my cooler ranges appear more "dull" without compromising my colors to much… in hindsight the intensity of the neon light which I had set in UE4 was really fighting me here and I ended up addressing this bug in my second pass lighting which eased things up. At the far end of the curve you'll see that my lighter values dip a bit, this allowed my warmer colors to pop out a little more in an effort to improve the visibility of my scenes focal point (the desk).
Below: I made some adjustments to the Sat Vs Sat curve to ensure that I had an even blend between my cooler and warmer colors. Having a somewhat smoother transition from the blacks into the whites allowed for a more visually appealing image, blending my ranges together whilst still allowing spots to pop out.
Below: Here is ''Version 1'' of my CLUT which I then applied to my scene in UE4. You can see the results in the next section.
5 - Scene Assessment - Pass 1 (UE4)
6 - Second Pass - Lighting (UE4)
Takeaways from public comments and my own assessment helped me move forward with improving the overall quality of my scene. Here are some of the callouts that I would later address in my second pass:
What is the focal point? People felt that the desk was the focal point, which was correct, but that the blue light from the window seemed to be competing with the light above the desk a little to much.

Why was the scene so dark? People were not sure about going all the way to black with the dark areas, noting that it removed a lot of the depth from the scene for them.

The light on the right in red looks great! I used that source of light to give a soft edge highlight on the desk and chair to make them pop out more (second pass).

Jeez, that window is a little hot/bright!? Some felt (myself included) that the outside light source was really bright for a night time scene… the intensity of the light suggested a more sci-fi tone which is not what I was going for with the scene. Some saw this source of light as car headlamps and noted that it gave the scene an imminent / pressing feeling, as if something "big" was about to go down in the world.
So with all of this in the back of my mind - I jumped into UE4 and fixed these bugs and made some other tweaks to address my own concerns.
Addressing the focal point issue! The desk was fighting with the window for attention, the window was way to bright and the source was getting confusing for viewers. I cut the intensity of this source by 1/2 and sat with it for a couple of days, returning and reducing it by a further 1/4 which gave me the results I was looking for.

Addressing the darkness in my shadows! Going all the way to black with my dark areas was hurting the quality of my scene and I needed to brighten up my shadows which would be a mixture of lighting work and adjusting my grade in DaVinci. I started off my increasing the amount of bounce light in the scene, this improved things considerably. Also introducing a soft edge highlight on the desk and chair to make the geo pop out helped break up the pitch black spots in the scene.

Other: Rim lighting pass to improve scene readability over many key objects.

Other: Some post process adjustments were made to aid my dark values, mainly fiddled with the Global Illumination and Ambient Occlusion values.

Other: Adjusted the Aperture and Focal Quality on my scene cameras.

Other: Made some minor adjustments to my Reflections.

Other: Added IES profiles to some wall lights.
These were the changes that came into my scene with my second pass, these are demonstrated in the next section.
7 - Scene Assessment - Pass 2 (UE4)
8 - Third Pass - Lighting (UE4)
Before starting my final sprint, I jumped back into UE4 and looked at a couple of breakdown view ports of my scene. I looked at the complexity of my lighting to ensure that I didn't have any unintentional light overlap which would reduce performance. I looked at the Detailed Lighting view and the Lighting Only view to see how light was behaving with the geo in the scene. This is usually a step that I take at the end of a project just to cover any loose ends and to make some final adjustments.
9 - Tonemapping & Colour Grade Refinement (DaVinci Resolve)
Below: This node holds my second pass color correction values (node is highlighted in green). I'll also be covering the Tone Mapping and Color Correction nodes in this section of the breakdown.
Below: Here are my color correction values for my second pass, again adjusted manually by eye and then tweaked accordingly to match the atmosphere / mood that I was going for with my scene.
Nothing major here, I made some base adjustments to the Lift and Gamma, followed by some nudges in the Gain and Offset to help level things out after my second pass lighting changes. You'll notice that I didn't work with the Saturation and Contrast values as much with this pass either, I didn't want to compromise the levels that I was achieving through my first grade, so for this pass I just dropped the Saturation number by 20.0 to make my shadows a little darker.
Below: I didn't touch the R, G, B Curves this time and instead went straight for the Y Curve and lifted this in the middle to increase the brightness of my colors in the scene.
Below: This is the Color Space Transform Node which is where I apply the magic of Tone Mapping. Tone Mapping is a technique used in image processing and computer graphics to map one set of colors to another to approximate the appearance of high-dynamic-range images in a medium that has a more limited dynamic range.
HDR (high-dynamic-range) means that an image contains more dynamic range than the camera can capture. For instance, to create a HDR image you would normally take two or three shots with different exposure levels and merge them. Tone mapping is the process of converting image tones from a higher range to a lower range (HDR to LDR, or one that is suitable for display).
Both film and digital cameras have this same issue. They have to take enormous contrast ratios at the input, and generate sensible images at the output. So we use HDR to store the giant range for lighting computations, and tone maps to collapse the range to screen. The tone map acts as our virtual "film", and our virtual camera is loaded with virtual film to make our virtual image.
These processes are all taken in an effort to make our images in games more believable and realistic.
Below: Here is an example of my image with Tone Mapping disabled.
Below: And here is an example of that same image with Tone Mapping enabled.
Below: Let's look at what I'm actually doing here. The only two fields that I've adjusted are my Input and Output Gamma. Both of which take in separate color spaces that they will reference and compute accordingly within the tone mapping process.
I applied the standard sRGB color space as my input gamma and the Rec.2100 as my output reference. The results of which can be seen in the above examples of my image with tone mapping enabled / disabled. Essentially the system has taken the input gamma I gave it and has balanced all contributing values in my grade and lighting against the output color space and spat out the results. The intent being to match what you'd plausibly see through your own eye if you were standing in this scene yourself.
Determining what Input and Output color space to apply came down to trial and error and deciding what looked best and fitted with my vision for the scene.
Below: Here are the chromaticity diagrams for both sRGB and Rec.2100 color space which I've used as my Input and Output Gamma references. Chromaticity is the objective specification of the quality of a color regardless of its luminance, where luminance is the intensity of light emitted from a surface per unit area in a given direction. Chromaticity consists of two independent parameters, often specified as hue (h) and colorfulness (s), where the latter is alternatively called saturation, chroma, intensity, or excitation purity, where purity is the difference from the illuminant's white point to the furthest point on the chromaticity diagram with the same hue.
Below: I used the Luminance Mapping method in DaVinci and as soon as this was applied I said goodbye to my blown out highlights and majority of my dark areas were addressed! I adjusted the Max. Input which is measured in Nits in DaVinci (Nits are used to describe the brightness of computer displays, such as LCD and CRT monitors) to 3000 where a value of 1 would give me increased dark values. I leveled this out with a Max. Output of 5000 where a value of 1 would have blown out my scene and washed out all of it's color, these settings felt appropriate for my image and gave me the results I was looking for.
Below: I applied a Color Compression Node and compressed my grades luminance values by 0.025 which mildly brightened some of the darker areas in my image. The difference is quite faint, but to my eye it's clearly improved the overall readability and visual quality of the image.
Below: Here is an example of my image with Color Compressor disabled.
Below: Here is an example of my image with Color Compressor enabled.
Below: Here is ''Version 2'' of my CLUT which I then applied to my scene in UE4. You can see the results in the next section.
10 - Final Assessment - Pass 3 (UE4)